This perplexing video uses some rather clever camera tricks and simple physics. The link gives an explanation of how it is done, but not why. :-P
Video Description:
Fishing under ice (ORIGINAL)

Uploaded by juusdo on Jan 2, 2012

Some under ice views from beautiful lake Saarijärvi in Vaala, Finland

Divers:

Fisherman: Eelis Rankka
Fisherman's friend: Tommi Salminen
Boy with the balloon: Jukka Pelttari

Camera and editing: Juuso Mettälä

Manuscript by Juuso Mettälä and Eelis Rankka

Safety divers: Esa Vuoppola and Juhana Heino

Music: Stefano Mocini: The end of the doubs

Couple of things about this video:

Camera I used was Sony HDR-SR11 with Amphibico HD Elite housing.

The Wheelbarrow was saved from the bottom of the lake and I have used it many times after that.

The rubber duck and the balloon are also home with me.

None of the divers got any permanent damage either.

And yes, we had a lot of fun making this video.

-Juuso
Link: Finnish Underwater Ice Fishing Mystery Finally Solved : Krulwich Wonders... : NPR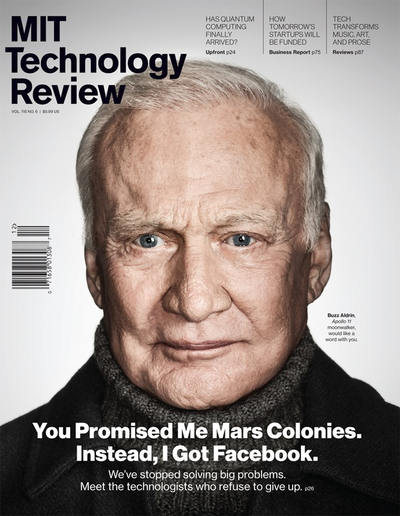 Link: Why We Can't Solve Big Problems - MIT Technology Review
The article that is featured on MIT TR's cover for this month very much aligns with my thinking about innovation. We are not innovating at the level that humanity did in the not-so-distant past. We are working on short-term ideas that are only incrementally better than what was available previously rather than creating solutions that transform society. The major problems that humanity faces are widely acknowledged, but nobody is solving them adequately. The article argues that the reason we are not solving these large problems is because society both lacks the environment needed to develop and test ideas for these hard problems and we are using the wrong tools to solve problems. Furthermore, the challenges we face now are different from the ones in the past and require theoretical underpinnings that we are still developing — in short, these problems are much more complex.
One interesting idea that I took from the article is that not all problems are technological in nature — specifically the example given about Amartya Sen 's work which states that the cause of famine is not from an actual shortage in the food supply, but a problem with food distribution which is more likely caused by economic or political reasons rather than simply agricultural inefficiency.
In other news, I just found out that the magazine had decided to go digital first in June.
The last post made me curious about other old books that are available online and I came across this list. This allows me to mention one of my favourite words: incunabulum.
This site from the National Library of Medicine allows you to interact with old medical texts dating as far back as the 17th centry BC.
Link: Turning the Pages
I remember the first time I read about the Sapir–Whorf hypothesis — it really changed how I saw language as a tool. Language no longer felt like just a means of communicating with other people, but now I saw it as having an additional role in the internal representation of ideas. I like to think of language as an improvement on compression of thoughts beyond what is possible solely with speech and images. This is probably why I am such a fan of text-based systems.
The following two links talk about recent studies on how the naming of colors changes how we see the world and how much this naming process is linked to brain structure.
Link: The crayola-fication of the world: How we gave colors names, and it messed with our brains part one and part two.
John Carmack talks about performance tweaks, multiple platform issues, and caching that came up in the development of Rage. I found the part about static analysis at the end particularly enlightening.
Great news: the Doom 3 source code will be released this year!
In my last post on medical devices, I talked about software verification. I have been watching some of the talks from OSCON 2011 and I came across one where Karen Sandler talks about the difficulties she faced when trying to see the source code for her implanted medical device. She brings up a very good point. Open access to the code is absolutely necessary for evaluating a medical treatment. We have lists of side effects and interactions for drugs, but no way of thinking about the algorithms that power the devices upon which lives depend.
Video: OSCON 2011, Karen Sandler